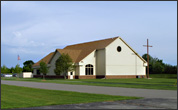 Exterior photo of St. John the Evangelist Catholic Church
Sheppard Engineering, P.C. is an independent consulting and design firm located in Troy, Michigan. Our firm deals primarily with projects in structural and civil disciplines. The scope of our work ranges from resolving basic structural problems to complete structural design of multi-story buildings. Our staff currently includes three registered professionals as part of a total staff of five people.

The expertise of our staff has allowed us to offer professional service in:
Engineering analysis and design of steel, concrete and wood structures in both residential and commercial construction.
Evaluation of structural problems and failures, building inventory, repair specifications and preparation of reports for owners, architects, contractors and insurance companies.
Site design including topographical surveys, water main, storm and sanitary sewers.
Sheppard Engineering, P.C. has become well known for the ability to evaluate and resolve problems effectively. Oftentimes, this involves on-site supervision or inspection services. It is precisely this field experience that has given us a broad insight in the proper details and procedures required in the construction industry.
In addition to understanding the complexities involved in all types of construction, Sheppard Engineering, P.C. has the ability to convert your ideas into successful developments. Throughout many communities in Michigan and throughout the country, we have taken projects from the idea stage to the construction completion stage.
Sheppard Engineering, P.C. is looking forward to becoming a member of your development team.